Prefer the flexibility of learning online?
Can't wait to start?
Our Personal Stylist Certification Course is now Online!
Become a Personal Fashion Stylist in just 6 weeks with the most comprehensive online personal styling short course in the industry.
Gain insights of 20 years of personal styling experience and start your very own business shopping, styling and changing people's lives!
Get paid to help others feel great in what they wear
Enjoy being your own boss
Work when you want to suit your lifestyle
You get to play with fashion every day!
You cannot help but improve your own style when you learn to be a personal stylist
Not just any online course
Our sell out, face to face course has been adapted to an exciting online format
including 12 months access to:
Video content developed specifically for visual online learning
Footage from our live face to face course
Comprehensive fully editable online training manual
Live Q&A Sessions with Cindy during the course.
PLUS receive 12 months of access to monthly live Q&A webinars & back catalogue
Access to our PSA Graduates forum.
Online stylist resources
Your very own Personal Fashion Stylist Certificate
Personal Styling
— a fast growing industry
As an industry, personal styling is reaching year on year growth.
There's a perception that personal styling is for celebrities, however, this is just a tiny fraction of the people using personal styling services. Of course the fashion industry is in need of quality trained personal stylists, however, people from all walks of life with many, many different reasons, motivations and requirements seek the specialist support of a personal stylist.
Personal Shopping
Professional Wardrobe Support
Personal Branding
Style Advice
Colour and Fit Support
Work with purpose and passion in your new life and career.
This is your opportunity to study with an industry leading education provider and learn from Australia's premier personal stylist.
Professional Styling Academy
— be the best, learn from the best
The Professional Styling Academy is the industry leader in personal styling. It teaches the skills to style others with compassion and heart and provides relevant and practical hands- on content. You'll learn the proven method to style clients as well as run a successful styling business — if that's where your passion lies.
You see, completing the course opens new doors — to new careers, and to new lives. Some graduates move straight into a styling career, whilst others apply the skills and expertise they learn in the course to their existing careers or to meet their professional aspirations and enhance their employability.
Meet your educator
Cindy Newstead is Australia's most experienced personal stylist having personally carried out more than 8,000 personal style consultations. Not only that: she's also trained over 750 personal stylists. She's a nationally recognised authority when it comes to fashion and styling – and we're offering YOU a spot in a course that she'll be PERSONALLY doing.
Experience from OVER 8,000 personal consultations
Official Stylist for Chadstone The Fashion Capital
Owns the largest styling business in Australia
First and only stylist to open a PRIVATELY-OWNED styling suite in a shopping centre
Published Author
NLP Master Practitioner
Creates & facilitates her own major runways
Founder of Shopping & Relaxation Tours to Vietnam since 2014
You deserve creative, fulfilling work, but you're not sure how to move past from where you are now, to where you want to be.
Having trained over 1000 students that have changed their lives through our professional styling program, we can show you what it takes to:
Turn your passion into a career you love.
Build the skills, expertise, systems and processes to run a thriving personal styling business.
Feel less stressed and overwhelmed trying to have a balance between your family life and a rewarding career.
Translate your desire to help people and make a difference into a successful work life.
Love Your Work
You can create a work life that's rewarding and lucrative, whilst still being there for your family and having room in your life for your passions.
Our online home study personal stylist program shares the professional and technical expertise and skills Cindy has developed from almost twenty years of working as Australia's leading stylist and foremost style expert. Let Cindy show you how to transform your career, and transform your life.
Complete Certification Program
The Professional Styling Academy Online Certification course provides contemporary, cutting edge training that meets the needs of an evolving industry. The content is relevant and based on practical, hands-on content delivered by an industry leader.
6-week (interactive or certified) course that can be completed at your own pace with 12 months access to content.
12-month access. Download Course Booklets and worksheets.
Become a Personal Fashion Stylist in just 6 weeks or over 12 months – study when you want, how you want with 12 months access to our self paced course.
Here's what you'll learn:
Meet Our Graduates
Our course can help you live your dream life as a Personal Stylist
No experience? No worries!
Our course was created with beginners in mind so that you too can use the unique and proven styling system & business model behind the amazing growth of the largest pesonal style consultancy in Australia.
Live your dream life as a Personal Stylist making a difference in the lives of others every day with fashion and heart.

"The experience was amazing."
PSA Graduates

"Amazing course, best choice of my life."
Kate Hastings, PSA Graduate
Don't be afraid of walking into a group of unbelievably well-dressed fashionistas: all our students are exactly like you: looking for the tools to start their own styling business.
Our course is for people who love to dress the everyday person. You do not need a background in fashion, nor do you need any kind of experience.
Spend just 5 days with Cindy and she will prepare you for a career as a successful Personal Stylist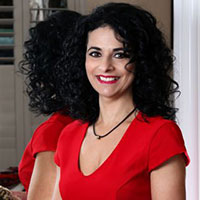 Cindy is such an inspirational person, her passion is infectious. Cindy is full of knowledge and is generous with sharing it. By being part of both styling courses with Cindy and the Professional Styling Academy, it gave me the confidence to pursue my passion. I'm now running my own personal styling business and loving it.

The support didn't finish at the end of the course, it continues with monthly stylist meetings where Cindy shares her experiences and the current fashion trends and also gives us stylists the opportunity to ask questions and learn from each other.

If you're considering a career in personal styling Cindy is the person to learn from.


Antoinette Stonham, PSA Graduate
Founder of Allaboutstyle